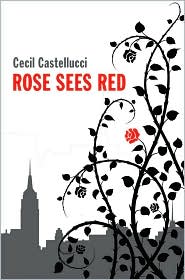 Rose Sees Red
by Cecil Castellucci
Scholastic Press
,
2010

197 pages
9780545060790
Rose, a ballet student at Performing Arts in New York City has resigned herself to spending high school alone. But one night, her Soviet neighbor evades the KGB and CIA stationed outside her door and climbs up to Rose's bedroom window. Rose and Yrena find they have a lot in common, and they set off to spend a wild night in the city that never sleeps.
Why I Picked It Up:
I admit, I judged this book by its cover. The simple black and white with a touch of red drew me in. The blurb only cemented my decision.
Favorite Elements:
Not Your Typical High School - Who wouldn't want to spend high school surrounded by artistic geniuses? Even though Rose quickly puts the idea to bed, I couldn't stop myself from thinking that it must be like living in the movie

Fame

every day. She also shows us that even cool PA students have typical high school problems.
Subtle Romance - Sometimes the best relationships are with the people you thought were only your friends.
Historical Viewpoint - Rose's story takes place in October, 1982. I often don't draw a connection between the Cold War and the 1980s. To me, the Cold War is the Cuban Missile Crisis, JFK, and Khrushchev. I forget that tension between the US and USSR was still an every day part of life, and the threat of nuclear war was still hanging in the air, even as this story was taking place.
Epic Night - This book was a cross between the movie

Center Stage

and

Nick and Nora's Infinite Playlist

by Rachel Cohn and David Levithan. Oh what a night!



Overall (out of 5): 3.5

The writing was very fluid, almost felt as if I was dancing with Rose through her journey.
And even though Rose and Yrena were well thought out characters, but everyone else seemed a tad flat.
Their mad dash through the city was intense, but the "give peace a chance" message came on too strong at some points. I found myself struggling to not gloss over those paragraphs. Luckily, they were few in number.



Recommendation:

I would definitely suggest reading this book, especially since it is so short, it can be finished in an hour or two. It was a peek into the lives of teenagers during a period of time that is just now old enough to be considered historical fiction.