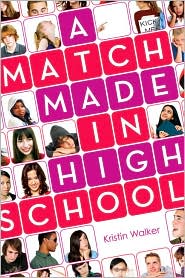 A Match Made in High School
by Kristin Walker
Razor Bill, 2009
278 pages
9781595142573
Fiona's just beginning her Senior year of high school and is looking forward to fulfilling her resolution to touch her long time crush, Gabe. Her high hopes are dashed when the principal announces that the Seniors must complete a new program in order to graduate: "Trying the Knot". Each Senior girl is paired up with a Senior boy and they must pretend to be married for the school year. Fee is matched with the obnoxious school jock, Todd; his super flirty and gorgeous girlfriend is paired with Gabe (!); and Marcie, Fee's best friend, is joined with the very large Johnny Mercer. How could the school year get any worse? Oh, it's very possible.
Judging by the cover...:
I had my doubts when looking at the cover. It doesn't give any justice to the story, and I spent half my time with the book trying to match up the characters to the kids on the cover.
Favorite Elements:
Cheerleading - My one year experience with the sport (yes, it's a sport) was a complete failure. However, it gave me a certain respect for what cheerleaders actually do. It takes an exceptional amount of skill, practice, and energy to jump, shout, and dance, and they do it all in unison. They're dynamite!
Silly "real life" simulation projects - All eighth graders in my middle school had to participate in the "egg project". We pretended for a semester that our egg was our baby. We had to carry it with us wherever we went, feed it, make sure it had a babysitter if we couldn't watch it, etc. The only thing it taught us was how to make up one semester's worth of journal entries in one night. My twins, in case you were wondering, remained in tact for the whole semester, thank you very much.

Babysitting - It could be that my friends and I didn't need the egg project because, like Fee, most of us had younger siblings and/or a regular babysitting gig. Sam is one awesome kid and Fiona is a kick butt babysitter. Their antics remind me of my awesome babysitters back in the day.
Cool adults - So often the adults in the story are super lame. Fiona might think that about her parents, but when they interact with her, you can tell that one day Fee will think they are awesome. Her parents love each other very much, which is obvious and not often found in YA books.

Overall (out of 5):
3.75
Like I said, I was a little nervous picking this book up. The cover wasn't spectacular, and I was convinced that the plot would be high drama. I was assured, though, that this book was worth it, and so I read the first page. And was hooked. Okay, so there is a lot of drama (it wouldn't be a book about high school without it), but good Lord is it hilarious! Walker writes extremely realistic dialog and the practical jokes are genius. I had a very hard time putting it down and finished it in one day.
Recommendation:
If you're looking for funny, madcap, high school adventures, you should check it out. Don't let the cover fool you; this book is full of awesome.