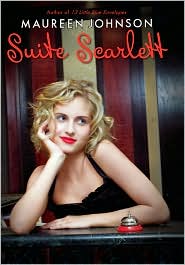 Suite Scarlett by Maureen Johnson
Scholastic Books, May 2008
353 pages
Book Source: Public Library
Scarlett Martin has grown up in a most unusual way. Her family owns the Hopewell, a small Art Deco hotel in the heart of New York City.

When each of the Martins turns fifteen, they are expected to take over the care of a suite. For Scarlett's fifteenth birthday, she gets both a room called the Empire Suite and a permanent guest named Mrs. Amberson. Scarlett doesn't quite know what to make of this C-list starlet and world traveler.
And when she meets Eric, an astonishingly gorgeous actor who has just moved to the city, her summer takes a second unexpected turn.
Before the summer is over, Scarlett will have to survive a whirlwind of thievery and romantic missteps. But in the city where anything can happen, she just might be able to pull it off.
-- Summary from GoodReads.com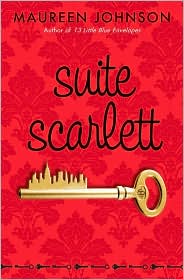 Judging by the cover...: Ugh. She's not even a real blonde (unlike the star of the book)! I was totally embarrassed to pull this book out in public. Thank the gods that the publisher realized this and decided to use a new cover for the paperback, one that won't leave the reader with feelings of guilt and/or shame.
Favorite Elements:
The Big Apple - I don't need to remind you how cool New York City is. So cool that I wouldn't want to ruin it's cool factor by living there (well, that's not the real reason, but we'll go with that for now). How many other girls can say they live in a swinging hotel that was once populated by New York's finest actors and actresses (and an illegal distillery, too).

The Stage - If you have what it takes to make it in Broadway, glamor and fame are as good as yours. If you don't want the life of an actor after reading this, then you have a cold, cold heart indeed.

Living in a Hotel - How many other girls can say they live in a swinging hotel that was once populated by New York's finest actors and actresses? That's right, not many. Imagine the people you'd meet, the crazy things you'd see!
Overall:
B+
If you couldn't tell from my reviews of 13 Little Blue Envelopes and The Last Little Blue Envelope, I go slightly fangirl over Maureen Johnson. She is a religious twitterer, spamming hilarious tweets from the moment she wakes up to the time she falls asleep (exhausted from so much tweeting, I'm sure). If there's a young adult author who is really connected to her readers, it's her.
All gushing aside, Scarlett is one of those girls that you can't help but want to adopt as your new best friend. Abandoned by her friends for the summer, left in the clutches of starlet Amy Amberson, caught in the trap of a failing hotel, and hypnotized by the hotness hunky actor Eric, there's no one who needs befriending more. Luckily she has her awesome older brother, Spencer, and an older sister who's got it all: rich boyfriend, hot wardrobe, a killer job, and the patience of a saint. Johnson pulls all of these elements together and does it with the same panache and hilarity of her frequent 140-character updates.
If you've ever wanted to spend a summer in the city that never sleeps, here's your chance to do it without ever leaving your couch (and accomplish it in much less time, too).
Recommendation: Puh-lease, like you have to ask. This is the first in the Scarlett series, and if the rest are like this one, you won't want to miss a beat.